Can you tell us about the history and inspiration behind Submission Shark? What motivated you to start a Brazilian Jiu-Jitsu kimono brand? Where are you from?
Submission Shark was established in 2017 shortly after I began training BJJ. There wasn't much of a motivation as more of a natural progression into an entrepreneurial/creative endeavor as a combination of my passions.
I started my martial arts journey with muay thai and boxing for approx. 6-7 years but after experiencing TBI (Traumatic Brain Injury), I realized that expressing myself in those arts would become unsustainable on my mental health as time progressed. I was pretty lost for a while but the academy that I attended also offered Brazilian jiu-jitsu and I figured it was a good idea to give that a try while my brain healed.
My Kru, who was a purple belt at the time, gave me my first BJJ kimono and was absolutely supportive in this transition. That was really meaningful and it helped spark a new purpose and new journey in a different martial art. He's also quite the entrepreneur himself. I suppose his being a role model for being effective at promoting what martial arts can do through a brand (The academy and now MMA fight series events) perhaps influenced me to create Submission Shark.

What sets Submission Shark apart from other BJJ kimono brands in terms of design, quality, functionality, and state of mind?
The masterpiece isn't necessarily just the kimono itself but the reaction both in observers and in the wearer. I learned this after receiving a compliment on my test kimono (The Shark Frenzy Kimono) from a stranger at a new gym and how it made me instantly more confident.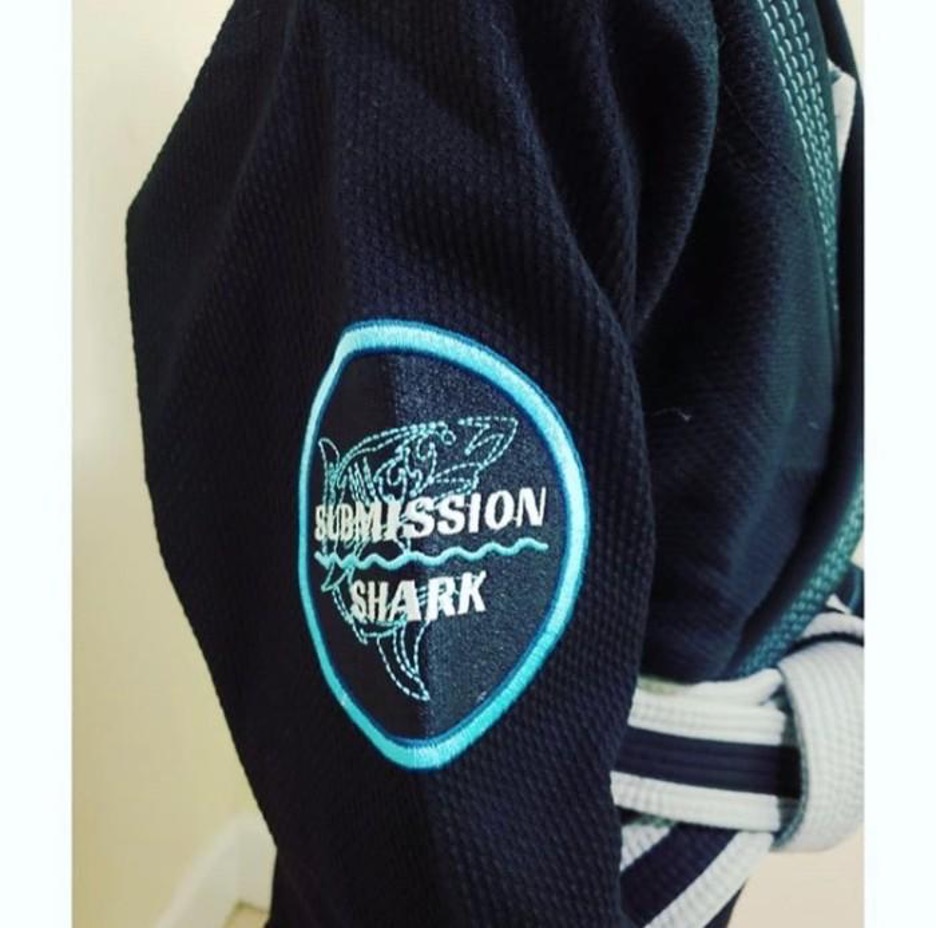 At Submission Shark, we're dedicated to providing a product that supports a lifestyle of dedication, resilience, and progress. The quality of the Kimono is made to represent the quality of techniques needed to master the art of Brazilian jiu-jitsu. Being in the lightest weight class, having high-quality technique is often the ONLY way to defeat your opponents, aside from perhaps spontaneity and overall strategy.
Functionality is also incredibly important as the kimono needs to be as functional as the martial art it represents. Fashion and self-expression can be found on the mats and has their place but functionality doesn't have to be sacrificed to do so. Submission Shark kimonos are both lightweight and durable and provide maximum movement for any technique you may find yourself attempting.
Fans have shared feedback about the comfort of both the rash guard-lined gis and lightweight kimonos. As long as the correct size is ordered, we believe that you will be able to find a great fit. We have designs for men, women, teens, and kids!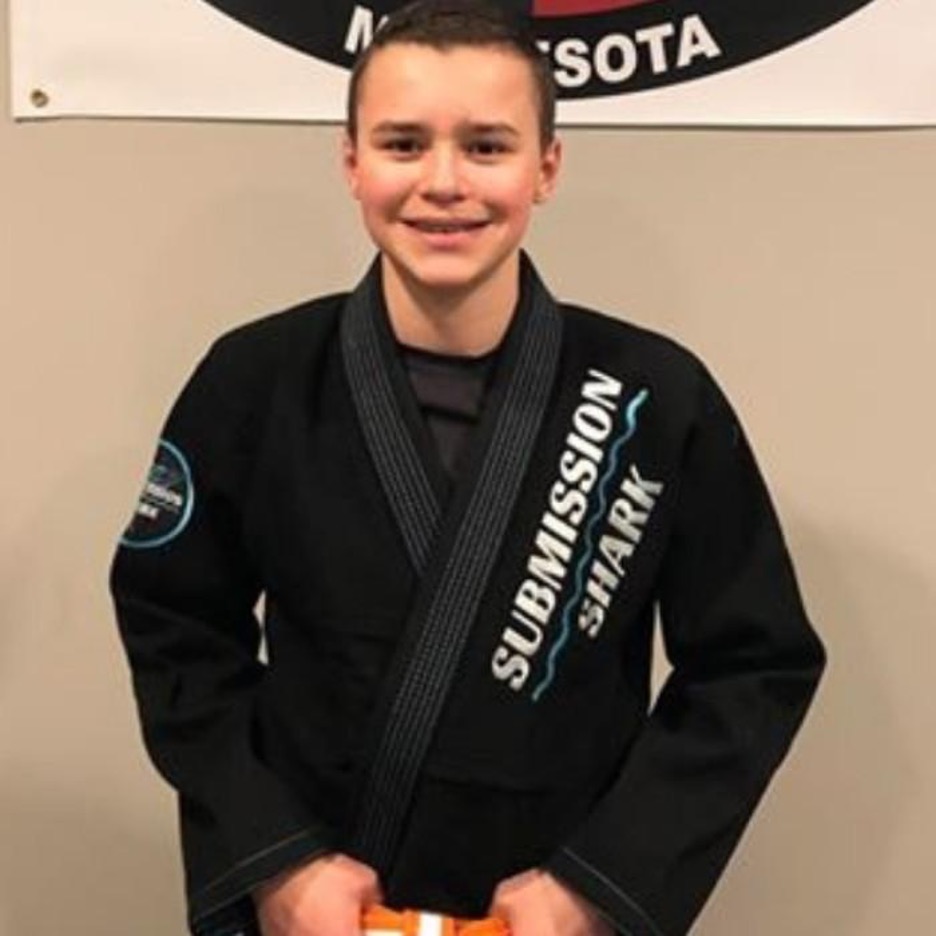 Objects can facilitate a change of state of mind. You can see it in how a practitioner may begin carrying him or herself differently after a BJJ belt promotion. Although the only change is the color of the linen, the owner believes they can do and achieve something different. The Kimono itself can have similar effects as simply wearing it transfers your mind away from the daily stress and into a new world of training, whatever training means to you.
With Submission Shark, we wanted to give our customers a chance to express themselves by wearing something that could take them into a different state of mind. Much of our content is less about the politics of BJJ and more about the culture that's built around it. Some of our brand advocates love the community aspect and others enjoy the self-empowering lessons that can be learned from the art. We've been described as "Luxury BJJ Gis" and "BJJ Fashion" before and I believe that's the direction we're headed in as a brand.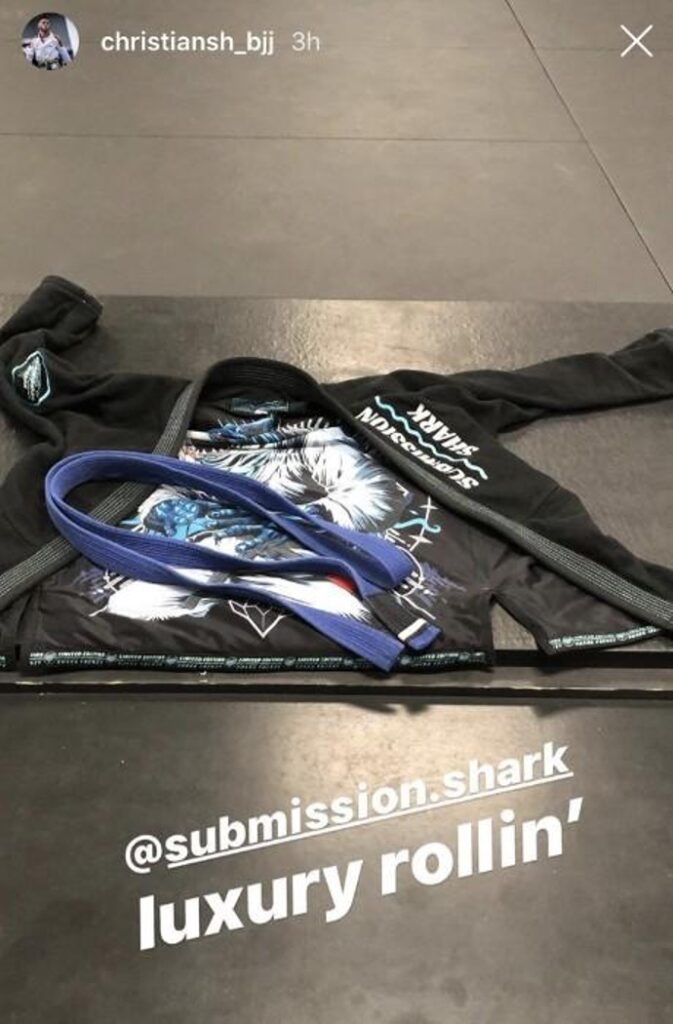 Could you share some insights into your design process? How do you come up with your kimono designs?
There's the process of Brazilian jiu-jitsu, a step-by-step progression of techniques, positions, and concepts to be learned. Of course, like BJJ there are the core fundamentals that make up the structure of the kimono. But I suppose the creative process is similar to how I like to roll… Playful. Open Minded and experimental.
Creative works often unlock a deeper meaning that can be explored and understood by the artist but is difficult to definitively explain to observers. Owners can incorporate their own interpretations and utilize them as a part of their own journey.
How do you collaborate with Brazilian Jiu-Jitsu practitioners or athletes to ensure that your kimonos meet their specific needs and preferences?
When it comes to one-off custom designs, there is no direct way of requesting. However, if there's a feeling of a spontaneous idea based on their expressions within the community, I may reach out.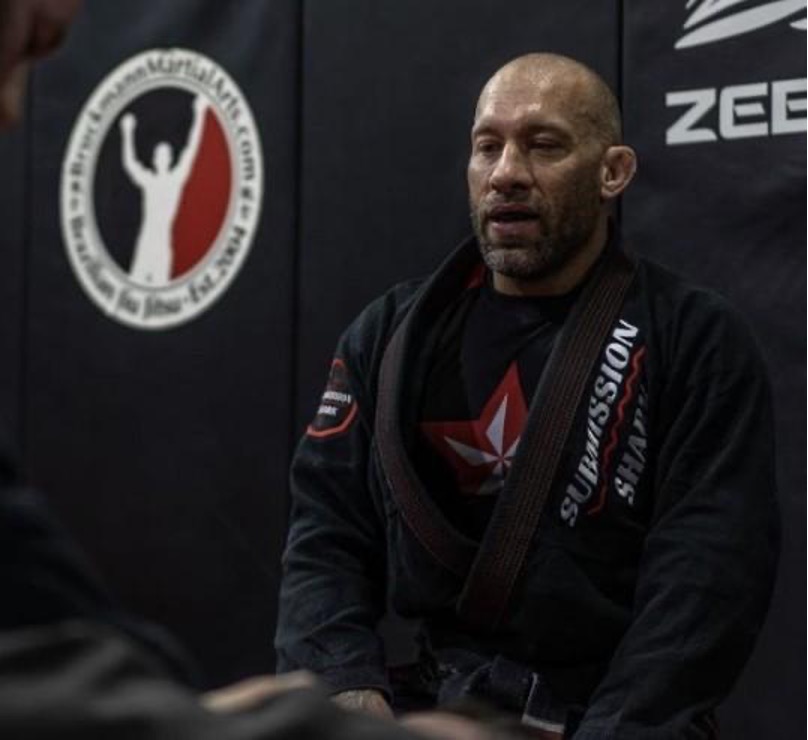 For instance, Kyle "The Bull" Sleeman a black belt in my area and is one of the best representations of a concept known as 'Mastery Realization'. He is someone that genuinely pursues mastery and generously shares his lessons with others that are seeking a similar path. The only requirement was the kimono size (funny story, I got that wrong lol).
No specific preferences, I just went to work/play and he ended up loving it and wearing it for one of his BJJ Fanatics instructionals. Despite him being a really down-to-earth guy, it's still an honor. He's not the only one in my community that has this type of energy but it's interesting to see someone reach a certain level of success and not look down upon others but rather uplift them through kindness.
I have only one other gi in this design (A0) as it was created in the wrong size. Maybe one day I will auction it off (Maybe on Kimono Monster?), or maybe one day I'll wear it myself, even though mastery seems so far away 🙂
Tell us more about "1 order = 1Kg of plastic removed from the ocean"
It feels like the world revolves around the blame game in many circles. This initiative, like the kimono, represents more than what it just is. It's about inspiring the idea of responsibility and collective action.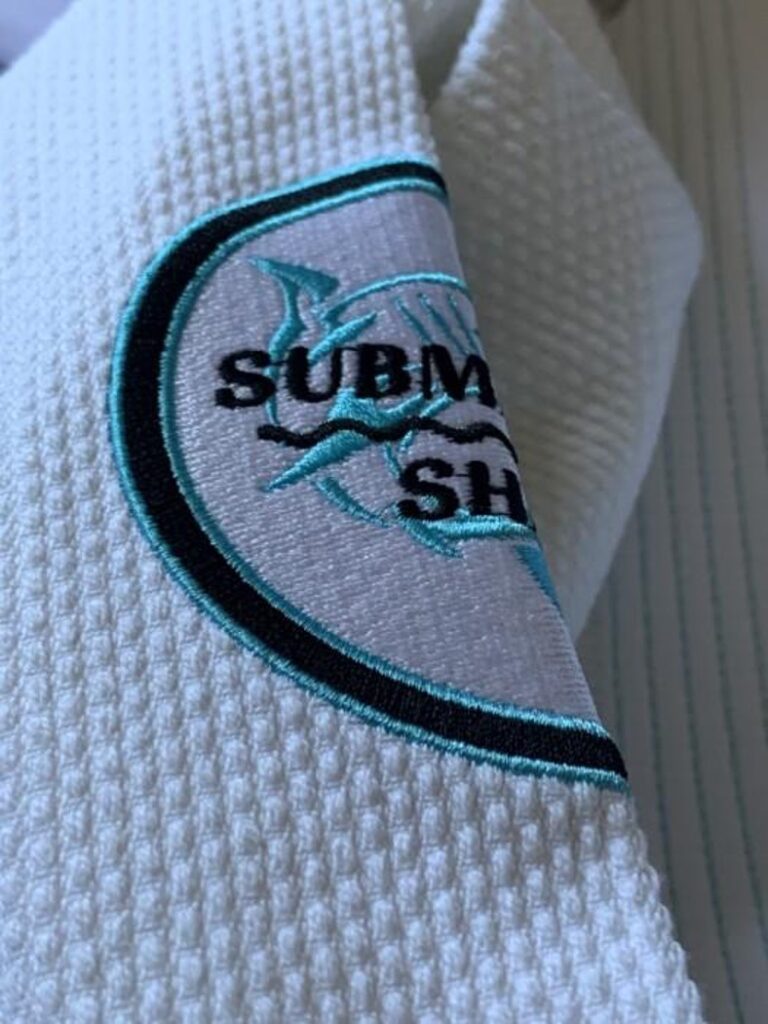 We aren't removed from the realistic understanding that although 1 kg is a lot, it's still a tiny fraction of the plastic that is in our oceans. It's more about taking whatever it is you're doing and adding some sort of positive impact to it. Similarly how academies may be profitable but the impact it has on its students, the community, and even the world is far greater.
Some gyms are all about the money. Not the students. As a student, I experienced more of a positive impact than a financial expense throughout my journey. Learning from my professors, maybe I subconsciously added some of their values into Submission Shark. Plus, plastic kind of really sucks but that can be explored at your own leisure.
Can you talk about any initiatives or partnerships that Submission Shark has undertaken to support the Brazilian Jiu-Jitsu community or promote the sport?
After reaching out to other practitioners, I realized that individuals participating in the art had some of the most interesting stories. BJJ brings people in from all walks of life for various reasons. Some of them are heartbreaking. Others are uplifting. No matter the reason, everyone has something to learn from each other and I wanted to create a platform to share some of these stories.
A platform that was not only reserved for the star studded names but one where anyone can have a supportive outlet to promote how this martial art made a positive impact in their lives. Thus, the Submission Shark community started and continues to this day…

As an eCommerce BJJ brand, we haven't done too many physical events but we plan on sponsoring local tournaments starting with Oshawa BJJ Open. You may see Submission Shark at larger events such as IBJJF but despite the viewership, it feels like we can have a much bigger impact by partnering with local events.
How do you handle customer feedback and incorporate it into your product development process?
Removing emotions from the process of receiving feedback is important. Just like how your professor may explain that the technique you are doing is incorrect, there's no need to get upset. Feedback is often honest. If someone cares enough to share what went wrong, it should be approached with gratitude and genuine consideration. It's unrealistic to assume that you'll be perfect every time.
For the BJJ gis, we haven't received anything negative, that feedback is basically to just continue with what we're doing and continue to bring the quality that is known with a novel look. Other items took some iterations at first but customer feedback slowly helped us to perfect the fit and shape of our women's no-gi BJJ rashguards, jiu-jitsu spats, and other martial arts apparel. I personally reach out to every customer after each order to get feedback on their experience.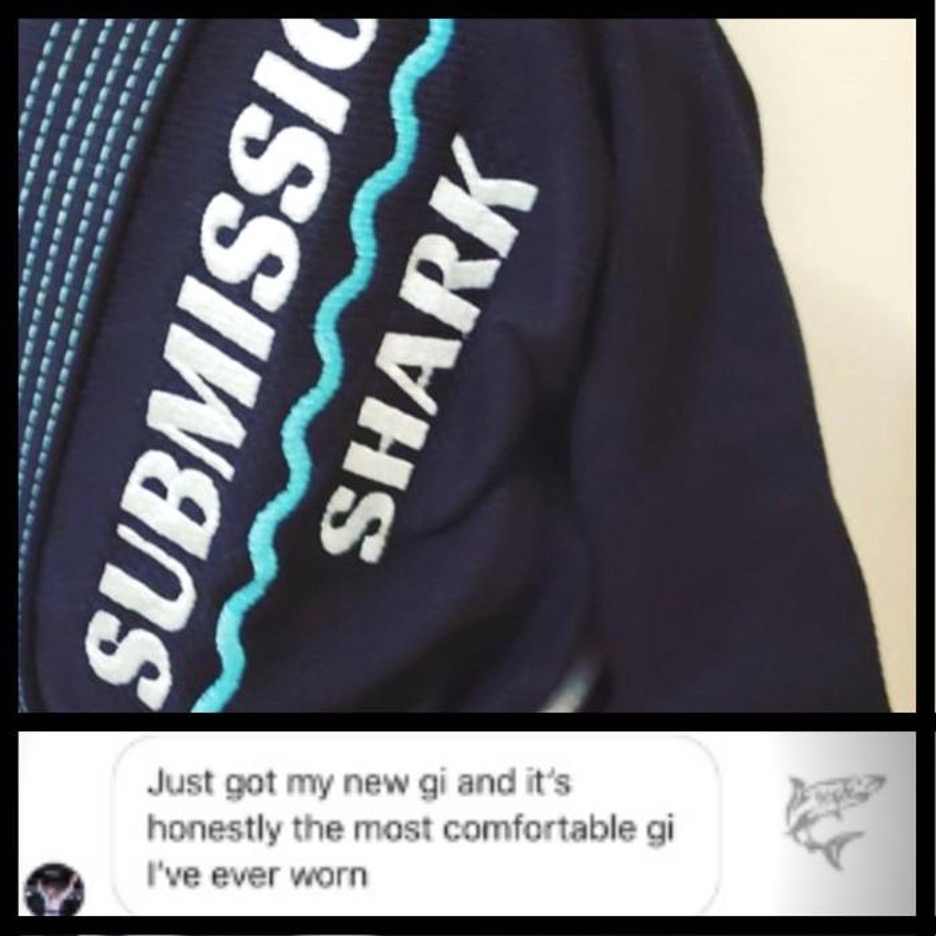 When it comes to completely new product designs, I typically randomly select a few loyal brand supporters and send them out for free. If they love it, I'll move forward and launch the design. This is a pleasant surprise and it's a fun way to get customers involved in the creative process.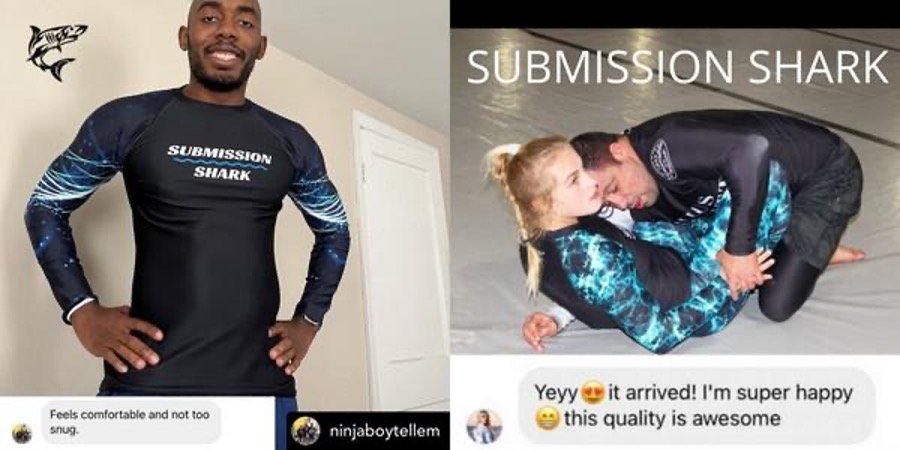 What are your plans for the future of Submission Shark? Are there any upcoming products or collaborations that you are excited about?
The future is always a mystery. The creation of Submission Shark wasn't even known the night before. The next athlete collaboration might come from something interesting I randomly see on Instagram or a campaign planned months ago. There are many products, designs, athletes, content creators, and even other brands that are open to collaborating on something.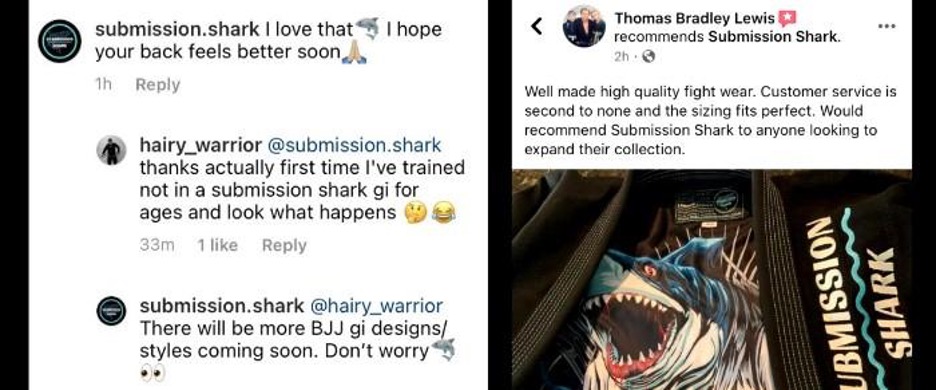 Although Submission Shark has grown fast, we're just getting started and I'm grateful for your participation in this journey. Oss!